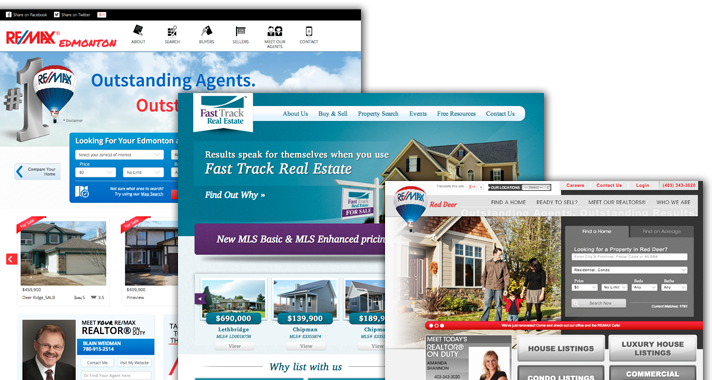 Custom Office Websites
Website Solutions for Brokers & Offices
Your brokerage is unique and so is your branding. You need an office website with multi-agent functionality and a custom look that's tightly integrated with your existing identity and marketing. From custom-built modules and navigation to gorgeous page layouts and custom content, our creative team will work with you to create an online brand experience that stands out and gets your brokerage noticed.
The Steps To Success
At the centre of your custom website design is your brand. Your personality, your experience and your business. To ensure your custom designed website is something we're all proud of, we include you in the design process from the very beginning, merging your ideas and vision with our creative team's design expertise and branding savvy. We get your feedback at every step along the way: the best strategy to create a site you'll be proud to show off is for us work together.
Idea Phase

We like to ask a lot of personal questions about you, your business and your aspirations. From there we develop a concept (colours, imagery etc) and bounce ideas off of you. The goal is to set the right tone for your brand and market.

Content Phase

A great custom website needs great custom content. While we're designing and building your website, our copywriting team works with you to build out important pages, develop pivotal content, and create landing pages optimized for your goals.

Design Phase

This is where we create a complete look you love. Sometimes we jump right in and do layout and design together, while other times we wireframe first and organize the different elements before diving into which colour goes where.

Development Phase

Using your approved design we construct a website on the Redman engine for you to preview. Links and rollovers work, sliders animate and everything's explorable. Give your new site a test drive and let us know how it handles the curves you throw at it.

Ongoing Strategy

Launching a great looking custom website is just the beginning: To be truly successful in the real estate industry, you need an ongoing marketing and content strategy that keeps your website current and relevant to today's consumers.
A Custom Website Budget
Creating a custom real estate website is no small undertaking! The process can take anywhere from 2 to 5 months to complete, and pricing for custom solutions at Redman start at $10,000.
If your website budget is more modest, or your timeline is shorter, you should check out our semi-custom Redman Office Pro solution. Get up and running quickly with one of our flexible templates that lets you customize colours, headers, menus, widgets, and more.